Chilaquiles is a classic Southwestern casserole that layers soft corn tortillas with beans and cheese (vegan in this case). Adding zucchini and chiles adds to the lively flavors. This recipe makes a nice change-of-pace holiday main dish but is also easy enough to make for weeknight meals. Photos by Hannah Kaminsky. Adapted from The Vegetarian Family Cookbook.
Black Bean and Zucchini Tortilla Casserole
Recipe type:
Vegan main dish
Cuisine:
Vegan / Southwestern / Healthy
Prep time:
Cook time:
Total time:
This southwestern-style casserole makes for a nice change-of-pace holiday main dish, but this is also easy enough to make for weeknight meals.
Ingredients
1½ tbsp extra-virgin olive oil
1 cup chopped onion
1 medium green bell pepper, diced
1 (28 oz) can crushed or pureed tomatoes
1–2 small fresh hot chile peppers, seeded and minced, or 1 (4 oz) can chopped mild green chiles
2 tsp chili powder, or more, to taste
1 tsp dried oregano
1 tsp ground cumin
1 (16–20 oz) can black beans, drained and rinsed
1 medium zucchini, quartered lengthwise and thinly sliced
12 corn tortillas, torn or cut into several pieces
8 oz cheddar-style nondairy cheese (Daiya is great with this!)
vegan sour cream (homemade or purchased) or Cashew Cream for garnish, optional
Instructions
Preheat the oven to 400°F.
Heat the oil in a large saucepan. Sauté the onion until translucent. Add the green pepper and continue to sauté until it has softened and the onions are golden.
Stir in the crushed tomatoes and seasonings, black beans, and zucchini. Bring to a simmer, then simmer gently for 5 minutes.
Layer as follows in a lightly oiled 9 x 13 inch or 2-quart round casserole dish: half of the tortillas, half of the tomato-black bean mixture, and half of the cheese. Repeat.
Bake for 15 to 20 minutes, or until the cheese is bubbly. Let stand for 5 to 10 minutes, then cut into squares or wedges to serve.
Nutrition information
Per serving: Calories: 361; Total fat: 11g; Protein: 19g; Fiber: 12g; Carbs: 50g; Sodium: 550mg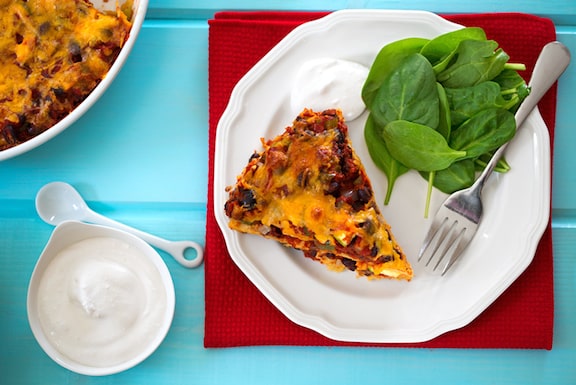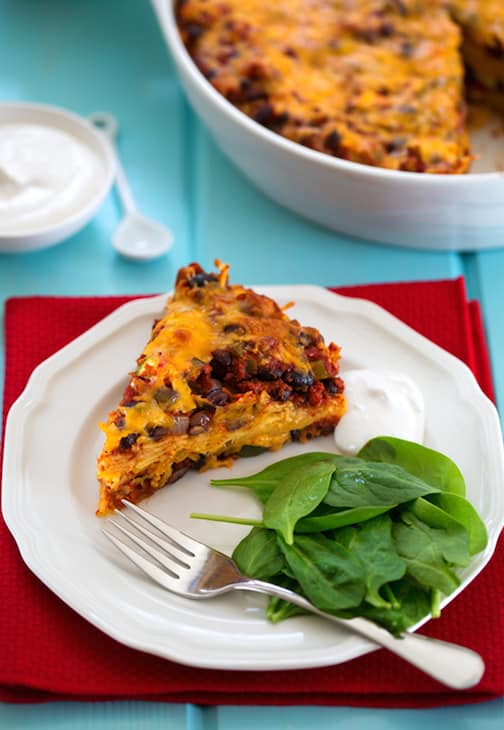 More
This post was originally published on 21 September 2014.